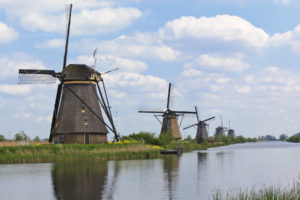 The Kinderdijk is the windmill area in the Alblasserwaard at circa 25 kilometres from Rotterdam. This area is placed on the World Heritage List in 1997, this is an acknowledgement for its unique character. The 19 mills in this area have been placed in 1738 till 1740 and had a historical water controlling task in Alblasserwaard. This task has been taken over by modern water mills.
During your visit of the Kinderdijk you have the chance of visiting a mill and experience how a miller lives and works. For your luncheon we will travel to the nearby city of Dordrecht. After which you will make a city walk of about 1,5 hours. Dordrecht is the oldest city of Holland and started as a settlement near the river Thuredrith. City rights were granted by the Earl of Holland in 1220.
But according to your wishes we can also customize a program.
Our guides speak several languages including English, German, French, Spanish, Italian and Russian.
For more information and possibilities please contact us via contact@prgte.com.